Safety icons are an efficient way to explain and alert about a hazard and instruct on the precautions to be taken in the workplace.
People are accustomed to seeing safety signs both in public and work spaces, and the fact that safety icons can be recognized in most parts of the globe makes them a powerful tool for communicating safety hazards. However, to maximize their value, there are some things to consider.
For example, it's essential that safety signs are not used to replace other safety measures such as safe systems of work. Also, to make the most of their function, using a harmonized set of signs in one location makes it easier for workers to recognize them and their meaning. Due to the lack of international legislation and enforcement on the use of safety signs and labels, differences between countries and industries remain.
Safety Signs in The Workplace
In the workplace, employers should make sure that all safety signs are correctly placed and that they're understood by everyone from visitors to full-time employees. OSHA and other regulatory bodies provide guidance on how safety signage should be placed.
All the signs within the same location should also follow the same standards. If the site uses different signs, this can confuse workers and increases the possibility of misinterpretation. For example, BS EN ISO 7010 and BS 5499 graphical symbols and safety signs shouldn't be mixed within an organization.
Despite taking all the necessary steps, safety signs will have no value if the personnel don't know what they stand for. Some signs are quite self-explanatory, but would you know at first encounter what this mandatory sign means?
Neither did I - it means that you should always cross check. My point is that it's crucial that during safety training, employees are educated about the meaning and correct use of the signs. This makes employees prepared to report safety issues caused by the lack of, or improper use of safety signs in the workplace.
One very important factor is to ensure that visitors and contractors are also familiar with the safety icons used in your worksite. Not everyone (e.g. laymen) is accustomed to reading safety signs as often as safety professionals are. And, although safety signs are internationally recognized, and their design is standardized by the kinds of ANSI and ISO, differences between companies and countries remain.
When to use safety icons
Safety signs are to be used when the risks cannot be avoided or controlled in any other way (HSE).
If a risk or hazard can be eliminated or its impact minimized, this should be done first. Safety signs can then be placed to advice people about safety procedures or to warn about a remaining hazard. In no case should safety signs be used to replace safe systems of work.
Safe Systems of Work
Safe systems of work (SSOW) is a procedure to eliminate risks and hazards involved in an operation. It involves taking into consideration all personnel, articles and substances and calculating the risks involved so that proper measures can be taken to eliminate or reduce the risks and eliminate hazards. The first priority of SSOW is to eliminate the risk(s). If this can't be done, then the next thing to do is to try reducing them.
Safety signs are there to improve safety communications. Their function is to remind, warn, help and alert people of risk(s), hazard(s) and safety procedures.
So, despite safety icons being a valuable tool of communication, they should not be used to replace safe systems of work.
For example, in the event of a fire, personnel should already be familiar with the procedures and the evacuation route where the green exit sign is only to guide and help people place the safe location. The safety sign won't be visible to everyone until approaching the exit, and by itself, the sign might not be explanatory enough.   Some signs, like the exit sign, are recognized by even the members of the public without training, but the safety procedures around evacuation vary from one workplace to another.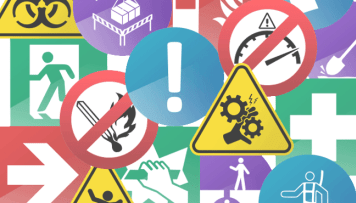 Another good example is working at height. Falls have been on the top of OSHA's list of most reported incidents for several years now, thus there's a strong need to improve safety procedures to reduce the biggest cause of workplace injuries. Again, adding safety signs to warn about the risks won't be enough to decrease these incidents. Without proper controls and equipment in place, the risks cannot be eliminated. Safety signs should be added to reinforce safety, and to instruct and remind workers of required PPE, for example.
The HSE has put together a page to help organizations prepare for working at height.
Standardizing safety signs
Although organizations shouldn't merely rely on safety signs, they do reflect on organizations' safety culture and are an important part of workplace safety.
Safety signs stand out from the environment and are internationally recognized. There's space for improving their use, however. According to Rob Long, the problem with safety icons is that they're overly focused on objects. I see that with the workforce more mobile than ever, there's an even stronger need to regulate the use and appearance of safety icons.
Since globalisation and the EU has increased migration between countries, we're in need for international legislation. A lack of standardization in visual safety communication leads to confusion and increases the risk of incidents.
European standard
In 2013, ISO 7010 became a European Norm meaning that all European countries have had to adopt the standard. The safety icons standardized by ISO 7010 don't include any written language which makes them readable for anyone, despite their native language, level of literacy and age. In the UK, most of the BS 5499 standards have also been superseded by BS ISO EN 7010, but it's the Health and Safety Signs and Regulations of 1996 (by HSE) that enforce the use of health and safety signage.
USA
In the USA, safety sign standards are issued by OSHA. In 2013, OSHA issued a rule that incorporates the 2011 ANSI Z535 safety sign and tag standards into its regulations. The regulation utilizes globally communicative graphical symbols and ANSI format to better attract people's attention.
The aim of this rule is to create a consistent signage system that would improve national hazard recognition and visual safety communication, and in this way reduce workplace incidents, injuries and fatalities.
Improve safety communication in your workplace by downloading our 135 royalty-free Health & Safety Icons Pack »
Life-Saving Rules in the Oil and Gas Industry
The oil and gas industry has also noticed the impact standardized safety icons can have. In 2010, as a result of reviewing 1,484 fatal incidents and 1,173 high potential events for trends related to the cause and the use of protective barriers, the International Association of Oil & Gas Producers (IOGP) created the IOGP Life-Saving Rules. These rules consist of a set of eight core rules and ten additional rules that provide simple, clear icons with instructions on the actions workers can take to protect themselves. The guidance is provided in everyday language so that it's easy to understand.
Reports from the IOGP demonstrate how the use of these icons has reduced the number of fatalities in the industry. According to data from 45 IOGP member companies, 87% of the fatal incidents of 2017 would not have taken place if the Life-Saving Rules had been followed.
The importance of harmonizing visual safety communication
As recognized by the USA, Europe and the oil and gas industry, harmonizing and standardizing the use of safety signage is an important factor in improving visual safety communication.
Communicating hazards in a systematic way has also been a concern within the chemicals industry. The labels on chemicals are different between regions, and language barriers together with local rules for classification have made it difficult for workers to understand foreign hazard descriptions.
The UN created GHS (Globally Harmonized System) to classify and communicate the hazardous properties of industrial and consumer chemicals through labels and safety data sheets. The aim of GHS is to ensure that information on hazardous properties is understood across countries and that they're labelled and classified in a consistent manner.
GHS is a non-legally binding international agreement, which means that countries/trading blocks must create local legislation to implement the GHS. 
Hence, unlike OSHA, agencies such as ANSI and ISO don't have regulatory authority over the use of these standards, which is why enforcement from local regulatory bodies is required. For example, ISO 7010 standard provides the guidelines, but local regulations must enforce these for organizations to follow them.
Safety icons are an integral part of workplace safety, but to get the most value out of them, both organizations and local authorities have the responsibility to standardize their use.
Safety icons won't improve safety unless their meaning is understood by everyone visiting the site, or if they're being used to replace other safety measures such as safe systems of work.
When proper controls are in place, safety signs carry their role as the first point of contact with health and safety rules, which can be improved by harmonizing their design and layout in an international scale.
COVID-19 Safety Icons Pack
The Pro-Sapien team have created additional safety icons representing the recommended guidelines to prevent the spread of COVID-19 in the workplace. You can now download them for free here!